Linking. Feeding. Buffering.
Built by mk North America – one of the leading suppliers of mechanical components, modules and turnkey solutions for factory automation. The mk SPU 2040 is an accumulating pallet recirculation system which offers you cost-effective linking, feeding, buffering, positioning and separating of workpieces in the smallest possible space. The robustness and the variety of configurations of the system allows it to be used in practically all areas of automation and material flow.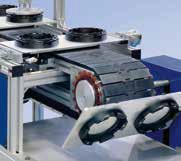 Automatic recirculation of pallets using a flat top chain conveyor the workpieces on the pallets are loaded on the upper transport level. After removal of the workpieces the empty pallets are safely carried over the return roller and then conveyed back on the underside of the conveyor. They are then once again available at the starting point of the conveyor waiting to be loaded with new workpieces. A second conveying level and devices for lifting and lowering are no longer required. Neither is any additional manual or automated loading of pallets necessary.
For more information on the SPU 2040 contact any one of the team members @ Blettner Engineering or by calling 317-862-9580.